Renting the Gallup House - An historic place to gather in America's Heartland.
Click below for Availability, More Information and to Make Reservations.

* If you have any additional questions, need assistance with making reservations, or are interested in room and extended stay rates, please use
the form on the Contact page and we will be happy to help you plan a visit.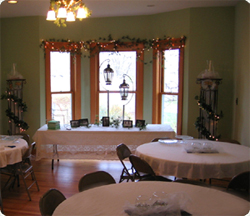 The Jefferson Parlor
(Shown Decorated for a Party)