The Public Figure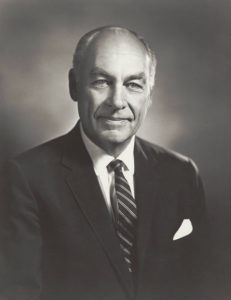 Born (1901) and raised in the Gallup House, Jefferson, Iowa, Dr. George Horace Gallup dedicated his life to asking questions to learn about people. His respect and interest for what each individual had to say made him one of the century's keenest listeners. He never tired of saying that there were billions of ways to live a life and we should study each one.
Firmly anchored by his Iowan roots, Gallup had a lifelong interest in people and their ideas. His worldwide contributions were recognized early, often, during and after his lifetime. His singular vision was that the solutions to many of society's problems would be found in understanding the thoughts and feelings of the individual.
Gallup's career began with his upbringing in Jefferson. He was an avid student and toiled at many jobs. His education continued at the University of Iowa in journalism. He began to measure reader interest in magazines and newspaper features while a student. His Ph.D. thesis in psychology was titled "An Objective Method for Determining Reader Interest in the Content of a Newspaper," and used scientifically selected samples. Gallup had begun his lifelong passion of measuring public attitudes on political, social and economic issues of the day.
Having gone on to teach at Iowa, Drake and Northwestern before he was 31, he was invited by Ray Rubicam to join Young and Rubicam, then the largest advertising agency as head of the market and copy research departments in 1932. At Y&R he carried on his research with print media, meanwhile establishing the first nationwide radio audience measurement by the coincidental method, which he had previously devised. Later he developed the Impact method – the widely used copy testing procedure to measure advertising effectiveness.
In that same year, he began his research in the field of public opinion and election forecasting urged on, in part, by his mother-in-law, Ola Babcock Miller, having been placed on the Democratic ticket in Iowa, in honor of her husband's efforts for the party. It seemed unlikely she would be elected, however, Mrs. Miller was elected in 1932 as Iowa's first female Secretary of State — a result George Gallup predicted in what has been called the first scientific political survey ever conducted.
As a result of measuring the electorate in Iowa, and drawing on his journalism experience and work in the research business, Gallup began to develop the idea for a national weekly poll of public opinion. Gallup founded the American Institute of Public Opinion in Princeton, New Jersey, and on the 20th of October, 1935, the first release was printed. Soon thereafter he established the British Institute of Public Opinion. At about this same time, he undertook a complete research program for Hollywood movie studies – research that measured the appeal of story ideas, box-office appeal of stars, publicity penetration, preview reaction – and ending with a forecast of box office returns. In this field he worked with David Selznick, Walt Disney, Sam Goldwyn and others. One of the most researched pictures in movie history was "Best Years of Our Lives" – a picture which won 10 Oscars. In 1948, he co-founded with Claude Robinson, the founder of Opinion Research Corporation (ORC), the advertising and marketing research firm of Gallup & Robinson, Inc., now The G&R Cooperative, LLC.
At about this time, Gallup, along with the other two leading polling companies – Roper and Crossley – miscalled the Truman election. Lulled into thinking that few votes would change after the start of the presidential campaign, interviewing had been stopped several weeks before the election, predicting a win for Republican Thomas E. Dewey, and missing a swing of third-party voters back to Harry S. Truman's camp in the final days of the campaign. Gallup write, "If the 1936 election performance of scientific polls [correctly picking the Roosevelt victory against conventional wisdom] gave the fledgling industry considerable credibility with the U.S. public, their performance in the 1948 election threatened to undo everything… As long as public opinion is important in this country, and until someone finds a better way of appraising it — I intend to go right ahead with the task of reporting the opinions of the people on issues vital to their welfare."
In addition to his determination, what separated Gallup from others was his strong social conscious. He believed that the solutions to many of societies problems would be found in understanding the thoughts and feelings of the individual. He always insisted that the next great development in medicine would come from a thorough exploration of environmental factors associated with illness – food and work habits, medical history, ancestry, psychological attitudes, and the like. To prove his point he conducted a variety of landmark studies ranging across the human condition, from infantile paralysis in the pre-Salk era, to factors related to old age, to psychological well being, to the quality of life in all areas of the world.
Serving as Chairman of the Board of the Gallup Organization and Chairman Emeritus of Gallup & Robinson, Dr. Gallup remained active in business until his death in July of 1984.
Today, Gallup's ideas have become the foundation for how society's institutions connect with and make decisions about people's thoughts, feelings and needs. From the representatives we elect, to the media we watch, to the products we buy, to how we understand ourselves compared to others, Gallup's ideas, methods and vision have gained worldwide application and acceptance.
Awards & Recognitions
One of America's 10 Outstanding Young Men
U.S. Jaycees, 1938. Others on this list include: Orson Welles, Rudy Vallee and Howard Hughes.
One of the 64 Who Run America
John Gunther, The 64 Who Run America, 1947. "New wielders of power have replaced Ambassador Gerards's famous list of tycoons," says the author of INSIDE AMERICA. Others on this list include: Truman, Clifford, Snyder, Byrnes, Marshall, McCoromick, Hearst, Sarnoff, and Luce.
1000 Makers of the Twentieth Century
Times Newspapers Limited (England), 1971, 1972 (Book based on articles.)
George Gallup: His name has been attached to a new dimension in modern politics. A psychologist by training, he left his professorship in journalism in 1932 to be director of research for a New York advertising agency. As a side-line he launched, in 1935, the American Institute of Public Opinion to undertake regular 'Gallup' surveys on public issues, using the established techniques of market research for syndication across the United States in a variety of newspapers. It was the presidential election of 1935 which put 'Gallup' polls on the map. Till then election forecasting had been monopolized by the 'straw-vote', notably the Literary Digest's. That year on the basis of more than two million postal ballots, the Digest predicted a defeat for Roosevelt. Gallup and others, by interviewing diminutive but 'representative' samples, correctly predicted Roosevelt's victory. This taught people that bigger opinion polls are not necessarily better. The discomfiture of the pollsters came in 1948 when they all wrongly predicted a defeat for Truman, but their subsequent record redeemed their reputation. R.J.E.S. ('Gauging Public Opinion,' H. Cantril, Princeton, NJ, 1944. 'Survey Methods in Social Investigation' by C.A. Moser Heineman, 1958.)
50 Who Made the Difference
Esquire, December 1983. "The goal was to select individuals – men and women – some living, some dead, all American citizens, who had made a significant difference in today's world through individual effort in their chosen field." Article by Richard Reeves
Using methodical means, George Gallup made it possible to know what the people are thinking, issue by issue, moment to moment. Before Gallup democracy was an exercise in guesswork; letters from constituents, the results of infrequent elections. Elected officials can now feel the public pulse more accurately, and one might assume they have become more sensitive to the voters' wishes. Gallup's methods also changed marketing; product testing and advertising campaigns are only two of the areas today that are dependent on how the numbers come out. Indeed, statistics is now unto itself big business. And George Gallup is its Henry Ford.

GEORGE GALLUP'S NATION OF NUMBERS. Selling soup or selling Presidents – it came to pass that the product was only as good as the percentages.
The 100 Most Important Americans of the 20th Century
Life, 1990 (Fall Special Issue) George Gallup – The Pollster Figured Out How to Take the Public's Pulse
In the summer of 1922 the St. Louis Post-Dispatch hired college students to question every reader about the newspaper's contents. One footsore door-to-door canvasser decided to devise a more efficient method; six years later George H. Gallup earned a Ph.D. with his thesis that public opinion could be collected from a very small sample, if selected scientifically.
The 100 Most Influential Americans of All Time
Atlantic, December 2006. George Gallup – #82 (between Margaret Mead (#81) and James Fenimore Cooper (#83)
He asked Americans what they thought, and the politicians listened.
The Private Man
Learn about the Gallup family, George Gallup's early life, and the influence Jefferson, IA had on shaping his values here.