The Gallup House
The Gallup House
703 South Chestnut Street
Jefferson, IA 50129
The Gallup House is available for tours, private events, and lodging.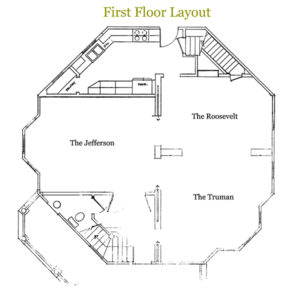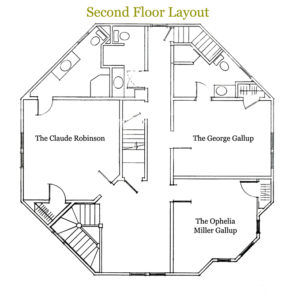 More information about the house is also available on Facebook.
Booking the House
If you are interested in checking availability or reserving the Gallup House, please click on the following button to be routed to our online reservation service.
Book Now
Thinking about an Event? Planning a Visit? Questions about the House?
The Gallup House is a unique destination. It is used for weddings, graduation parties, family reunions, receptions, business meetings, talks and focus groups. Although the house does not have regular public viewing hours, group tours can be arranged by contacting us in advance. If you would like to talk about using the House for your special event, scheduling a tour, or any questions about the property, please contact us using the form below.
We are happy to answer your questions, help you plan a visit, and share our enthusiasm about the property and for hosting you.
Jefferson, Iowa
Jefferson is a small, progressive town of 4,500 located in Central Iowa. It offers all the amenities that one would expect of a county seat, including a diverse set of stores, restaurants, parks and recreation facilities. It is also less than an hour from Ames (the home of Iowa State University) and Des Moines (the state capital) so it has convenient access to more conventional shopping, cultural and entertainment options. But the real reasons to visit Jefferson are that it lies at the heartland of some of the world's richest farmland and is a community of self-sufficiency and small-town values.
Getting Oriented in Jefferson, Iowa
Things to See, Do and Learn that Will Make Your Stay Jeffersonian
Getting Here
Directions from Ames
Take US-30 West toward Boone (39 miles)
Turn left at N. Elm Street/IA-4 (1.8 miles)
Turn left at W. Russell Street (.2 miles)
Turn right at S. Chestnut Street. (26 feet)
The Gallup House will be on the left.
Directions from Des Moines
Take I-235 East to I-35 North.
At Exit 111B merge onto US-30 W toward I-35 Bus/Ames. (42.6 miles)
Turn left at N. Elm Street/IA-4 (1.8 miles)
Turn left at W. Russell Street (.2 miles)
Turn right at S. Chestnut Street. (26 feet)
The Gallup House will be on the left